MYTH #1:  Only a small percentage of the population is affected by domestic violence.
FACT:  On average, 24 people per minute are victims of rape, physical violence or stalking by an intimate partner in the United States — more than 12 million women and men over the course of a year.[1]"
MYTH #2:  Domestic violence is a "loss of control."
FACT:  Violent behavior is a choice. Perpetrators use it to control their victims. Domestic violence is about abusers using their control, not losing their control.  Their actions are very deliberate.
MYTH #3: The real problem is couples who assault each other. Women are just as violent as men.
FACT:  Females ages 18 to 24 and 25 to 34 generally experienced the highest rates of intimate partner violence. From 1994 to 2010, about 4 in 5 victims of intimate partner violence were female. Men can be victims but it is rarely reported.[2]
MYTH #4:  Battered women are usually poor, uneducated and possess few job skills.
FACT: Domestic violence does not discriminate among sex, race, class, age, sexual orientation or educational levels.
MYTH #5:  Drinking causes violent behavior.
FACT: Many batterers also abuse alcohol, and a violent situation may escalate with drinking. But, alcohol DOES NOT CAUSE the violence. Drunkenness is no excuse for violence.
MYTH #6:  A battered partner can always leave the home – "If it's so bad, why don't they just leave?"
FACT: Domestic violence creates vulnerability to homelessness for women and children with limited economic resources. Among mothers with children experiencing homelessness, more than 80% had previously experienced domestic violence.[3] 16% of homeless persons are victims of domestic violence.[4] 84% of homeless women have experienced severe physical or sexual abuse at some point in their lives.[5]
MYTH #7:  People who abuse their partners rarely abuse their children, and children who merely witness the abuse are not adversely affected.
FACT: 3.3 Million: Estimated number of children in the U.S. each year that witness violence against their mother or female caretaker by a family member. 40-60: Percentage of men who abuse women who also abuse children.[6] Children who were exposed to violence in the home are 15 times more likely to be physically and/or sexually assaulted than the national average.[7]
MYTH #8:  Batterers are violent in all their relationships.
FACT:  Batterers choose to be violent toward their partners in ways they would never consider treating other people.
MYTH #9:  Most victims who are able to leave a violent relationship will not return to it.
FACT: Victims leave an abusive relationship an average of 7 times before they leave for good, but 60-70% of victims do eventually get out.
MYTH #10:  The victim is responsible for the abuse because they "provoke" the abuser.
FACT: The person abusing others is responsible for their own actions.  They have many options for  dealing with their anger.
MYTH #11:  Once a battered woman, always a battered woman.
FACT:  While some battered women have been in more than one abusive relationship, women  who receive domestic violence services are the least likely to enter another abusive relationship.
MYTH #12:  Battering incidents do not increase in severity over time.
FACT:  Unchecked, domestic violence almost always increases in frequency and severity.[8] In 70-80% of intimate partner homicides, no matter which partner was killed, the man physically abused the woman before the murder.[9] 175,000: Number of workdays American employees miss each year on account of domestic violence.[10]
MYTH #13:  Men are more likely to help a woman being attacked by a man than to help a man being attacked by another man.
FACT: Men are more likely to intervene in a fight between two men than in a fight between a woman and a man.  Most people believe that domestic violence is a "private affair" and none of anyone else's business.
MYTH #14:  A woman cannot be raped by her husband.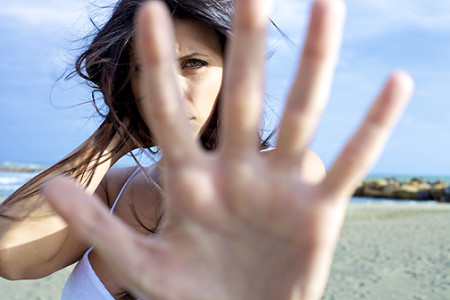 FACT: Marital rape is the most under reported crime. Twice as many women have been raped by their husbands than by strangers.  It is estimated that 20-30% of all women who are battered are also routinely raped as a part of the general pattern of abuse.  In many states, it is legal for a man to rape his wife.
MYTH #15:  It is uncommon for a husband to beat his wife during her pregnancy.
FACT: 25% of battered women are physically abused during pregnancy.
MYTH #16:  Domestic violence is usually a one time, isolated occurrence.
FACT:  Domestic Violence is a pattern of coercion and control that one person exerts over another. It's not just one physical attack, but includes the repeated use of a number of tactics – intimidation, threats, economic deprivation, isolation, psychological and sexual abuse. Physical violence is just one of these tactics. The various forms of abuse maintain power and control.
MYTH #17:  Men have a right to discipline their partners for misbehaving. Battering is not a crime.
FACT:  While our society derives from a patriarchal legal system that once afforded men the right to physically chastise their wives and children, we do not live under such a system now. Women and children are no longer considered the property of men, and DOMESTIC VIOLENCE IS A CRIME IN EVERY STATE IN THE COUNTRY.
---
[1] https://www.cdc.gov/violenceprevention/intimatepartnerviolence/index.html
[2] http://www.bjs.gov/content/pub/pdf/ipv9310.pdf
[3] http://www.nccp.org/publications/pdf/text_888.pdf
[4] Conference of Mayors 2013 Status Report on Hunger & Homelessness, A 25-City Survey (2013)
[5] Browne, A. 1998. "Responding to the Needs of Low Income and Homeless Women Who are Survivors of Family Violence." Journal of American Medical Women's Association. 53(2): 57-64.
[6] http://www.padv.org/documents/Statistics_DV.pdf
[7] Volpe, J.S., "Effects of Domestic Violence on Children and Adolescents: An Overview", The American Academy of Experts in Traumatic Stress, 1996.
[8] http://ccwrc.org/about-abuse/about-domestic-violence/
[9] Campbell, et al. (2003). "Assessing Risk Factors for Intimate Partner Homicide." Intimate Partner Homicide, NIJ Journal, 250, 14-19. Washington, D.C.: National Institute of Justice, U.S. Department of Justice.
[10] https://www.domesticshelters.org/domestic-violence-articles-information/faq/domestic-violence-statistics#.WF1-D_krJEY